The State Government Option Harms Access to Care
A new report released by FTI Consulting with support from Colorado's Health Care Future found that creating a state government-controlled health insurance option could financially impact hospitals and disproportionately threaten access to care for racial and ethnic minorities. The report reveals that "[o]ver 40 percent of hospitals at higher risk for closure as a result of reimbursement cuts under the state government option serve racial and ethnic minority communities, many of which already contend with significant disparities in health status, access, and outcomes."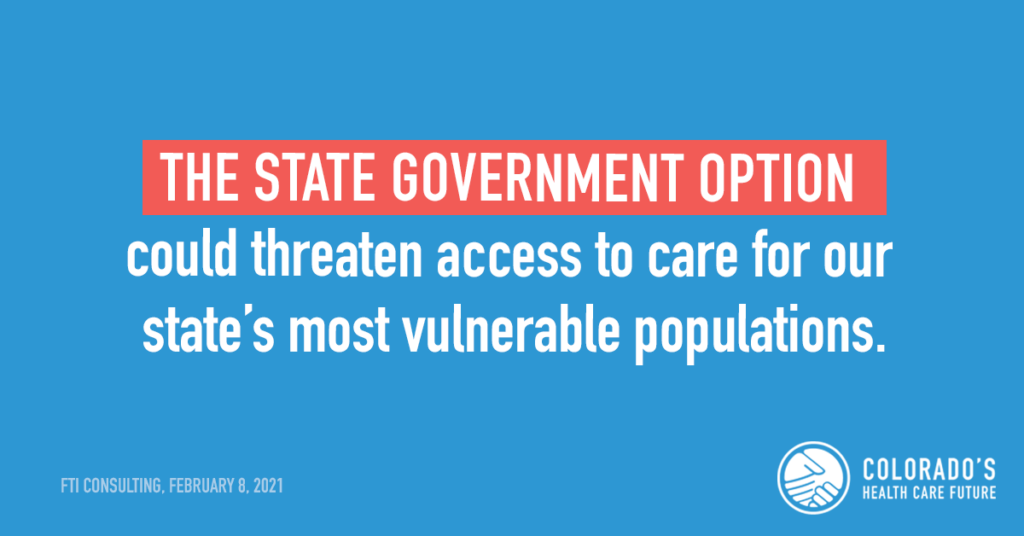 According to the FTI Consulting report, "78 percent of Colorado hospitals would face cuts to reimbursements due to government rate setting under a public option, totaling up to $112 million in losses annually," putting many hospitals at higher risk for closure – and threatening access to care Coloradans count on.
THE FACTS
Coloradans are relying on our health care system now more than ever. During this critical time, the state government option could threaten access to high-quality care so many are counting on.
Today, racial and ethnic minorities in Colorado comprise one-third of the state's total population, yet 40 percent of Colorado hospitals that could be at higher risk for closure under the state government option serve these communities.
Colorado's communities of color have already faced exceptional challenges and barriers to accessing health care throughout the COVID-19 pandemic, and disparities in vaccination, infection and death rates have intensified long-standing inequities in health care. For example, the Latinx community accounts for more than 25 percent of the state's total COVID-19 cases while comprising just over 20 percent of the total population, and the disparity in vaccinations remains largest among the Latinx community. As of April 2021, white residents in Colorado were two times more likely to have received the COVID-19 vaccine than Hispanic/Latinx residents.
THE TRUTH
Some lawmakers argue that the state government option could improve access to care for Coloradans, but a growing body of research demonstrates the unintended consequences of a new state government-controlled health insurance system. Rather than starting over, we should build on and improve what is working in health care where private coverage, Medicare, and Medicaid work together to expand access to health coverage and care for every Coloradan.